Casey Hayward Interview
In our opinion, one of the more overlooked prospects in the 2012 Draft, Casey Hayward, Cornerback from Vanderbilt stopped in to talk about his performance at the Senior Bowl, and looking forward to the Combine. For those who think he's too slow, Casey kindly tells you to turn the tape on!

---
Draft Geek:
First off, What was your experience like at the Senior Bowl? What did you like about it? How did you think you performed?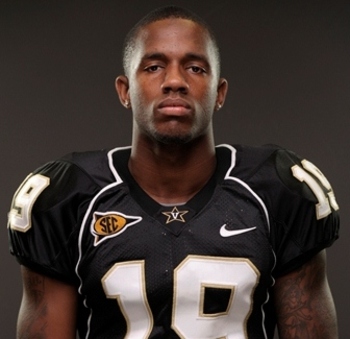 Casey Hayward: The experience was great, getting to compete with the top Seniors around the country. I think I performed well under the circumstances we were in. In the game I think I showed everybody what they already knew, that I'm going to be around the ball all the time!  
---
Draft Geek: Obviously the NFL Combine coming up is a big deal. Are you looking forward to being under such a close microscope? And do you feel you have anything to prove there?
Casey Hayward: I'm looking forward to it, everything will be O.K. I feel like I have to prove that I am fast enough to keep up with receivers in the NFL just like I have been doing in the past 4 years.
---
Draft Geek: People say your not fast enough to play cornerback at a high level in the NFL. What do you say to that?
Casey Hayward: I would say, What games are they looking at!!! 15 INT's just don't fall in your lap! I'm more then fast enough!!!
---
Draft Geek: You were part of group that has brought Vanderbilt Football back onto the map. What can you credit the resurgence to, and what do you think the future holds for Commodore football under coach Franklin?
Casey Hayward: I think we were older this year, and the seniors held everybody to higher standards. I think the program is going in the right direction. Coach franklin has everybody believing in him.
---
Draft Geek: What is the proudest moment of your Vanderbilt Career?
Casey Hayward: Being voted a captain my Senior year. It's an honor I always wanted to have, and being picked by my fellow teammates was an honor.
---
Draft Geek: You seem to be a guy who, for whatever reason, has always gone under the radar. Why do you think that is, and does it give you a little extra juice to prove people wrong? 
Casey Hayward: I think because of the school I went to. If I went to a big name school, and put up the same numbers, I would have been one of the top corners hands down. I still see myself as one of the top cornerbacks in this class, and somebody will recognize it. It definitely gives me extra juice to keep proving people wrong!
---
Draft Geek: What Current or Former NFL Player do you most compare yourself to, or look up to?
Casey Hayward: I look up to plenty of players, Darrelle Revis, Charles Woodson, Brent Grimes etc.  But I compare my game to Asante Samuels. This guy is always around the ball making plays, I think he is the most instinctive cornerback in the NFL, and that's what I think I do the best, being around the ball and making plays on the ball.
---
Draft Geek: What do you feel is your biggest strength, and also, what do you feel you need to work on the most?
Casey Hayward: I think my greatest strength is my instincts. That's why you always see me around the ball making plays. Another strength of mine is being competitive, you will always see me stepping up and making plays. Something I think I need to work on is being a better tackler, and cleaning up some of my fundamentals.
---
Draft Geek: Is there a young player at Vanderbilt that you see going on to be a big time player in college and in the NFL?
Casey Hayward: Chris Boyd, he will be a Sophomore next year. Wide Receiver 6-4, who had 8 TD catches as a Freshman.
---
Draft Geek: What goals have you set out to achieve in the NFL?
Casey Hayward: I want to be a consistent starter and Pro Bowl player as soon as possible.
---
Draft Geek: What is an NFL Franchise going to be getting with Casey Hayward in terms of off the field, and personality?
Casey Hayward: Your going to get a great guy off the field, who has not had any problems off the field.  Somebody that is honest, and willing to help in the community. Somebody that everybody should like in the locker room. 
---
Draft Geek: O.K We'll let you off with a soft one. What do you do to get yourself ready for Gameday? Any specific meals? Music?
Casey Hayward: I listen to Young Jeezy and Future before the game, and I eat a Banana before every game.  
---
Thanks so much for your time Casey, we really appreciate it! Best wishes on all your pre-draft stuff, and in the draft itself, we're rooting for you!
Follow Casey on Twitter here @show_case19