Top 10 2013 NFL Combine Sleepers
Every year there are more than a few players who steal the spotlight at the NFL Combine who weren't previously household names. Let's take a look at 10 players who are under the radar now, who could blow up in Indy.
---
1. Darius Slay- CB Mississippi State.
Why Darius Slay isn't already a house hold name is beyond me! Slay teamed up with Johnthan Banks to make up arguably the best 1-2 Cornerback duo in the nation. Darius Slay is over 6 foot 1, which is great considering how NFL teams are now wanting the bigger more physical cornerbacks. Slay however isn't just a physical corner, but is an extremely fluid athlete, with top end deep speed. I fully expect Slay to run around 4.45, and "Speed Turn" drill. His athleticism, combined with his size, may very well earn him a spot in the 2nd round of the draft.
---
2. Robert Alford, B.W Webb, and Blidi Wreh-Wilson. Just in case you slept through the Senior Bowl last month,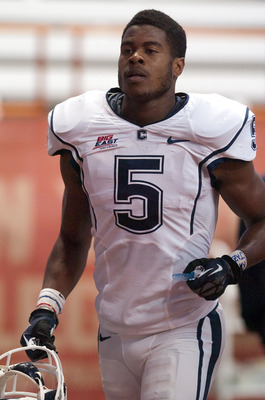 this is one last reminder that you need to know who these three cornerbacks are. All three of them will burn up the track in Indy. Alford and Webb are two small school kids who are well known in NFL circles, and will likely challenge to run 4.0 flat. B.W.W is 6 foot 2, and while he won't run as fast as these other two, he in all likelihood will run below 4.50, which is fantastic for a guy his size. All three of these guys are day two selections now, and could rise even higher.
---
3. Walter Stewart- DE/OLB Cincinnati. Mid-way through the season last year, it seemed likely that Walter Stewart would never play football again, now Mike Mayock is saying this kid could potentially be a Top 10 pick! When Stewart is healthy, and on the field, he is a dominant pass rusher. At 6'5" 250 lbs, Stewart is an extremely powerful, explosive athlete. Saying that he could go in the Top 10 is pretty much insane, but Walter Stewart could definitely raise his stock quite a bit with a clean bill of health.
---
4. Menelik Watson- OT Florida State.
He's only played in 20 football games, and only 12 at the D-1 level, but believe it or not, Menelik Watson might be a first round draft pick. Coming over from England, Watson played one year at JUCO, then one year at FSU, before leaving as a Junior. Scouts love his 6'6" frame, long arms, and top notch athleticism from his soccer background. Expect Watson to impress with his weigh-in and measurements, then show
off his athleticism in the on-field drills.
---
5. Trevardo Williams- DE/OLB Connecticut. The 2013 NFL Draft is loaded with pass rushers, as we could see possibly eight guys go in the 1st round. If you're a team looking to add a pass rusher and don't get one of those top guys, a guy like Trevardo Williams might present great value in the 3rd or 4th round. Trevardo will run among the fastest times of all the linebackers at the combine, somewhere in the 4.4 range, and if he can show he's bulked up, and gotten stronger since UCONN, he could really skyrocket.
---
---
6. Shamarko Thomas- Safety Syracuse. Shamarko Thomas was known as one of the fiercest hitters, and most physical safeties in the Big-East last year, but is a much better athlete than people think. His coverage skills didn't translate to the stat sheet as you might expect, but Thomas' 40 time, and speed-turn drills will demand peoples attention. It's a deep class for safeties, but if he can do what he's capable of at the combine, he could sneak into the 2nd day.
---
7. William Gholston- DE/OLB Michigan State. I'm not sure if Will Gholston classifies as a "Sleeper", but he certainly isn't top of mind like he was a year or two ago. Gholston came to MSU with much hype, and an unbelievable amount of athletic ability. He looked great as a sophomore, but underachieved this past year as a Junior. Gholston is as athletic as any defensive player in the draft this year, and he needs to show it at the Combine!
---
8. Sio Moore- LB Connecticut. The NFL Combine might be all about the UCONN Huskies, as coincidentally, Moore marks the 3rd prospect from Connecticut on this list. Like B.W.W and Trevardo, Sio Moore was extremely impressive at the Senior Bowl last month, as he quietly is raising his stock after an underrated career at the University of Connecticut. Moore is an outstanding athlete, and will put his top notch speed on display, combine that with a strong weigh-in, and a good amount of bench press reps, and Moore could make it a huge weekend for the Huskies.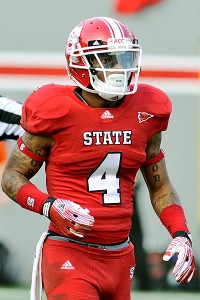 ---
9. Tobias Palmer- WR NC State. After a slow start to the season, Tobias Palmer really came on late for the Wolf Pack, proving to be an explosive receiver/returner with game breaking ability. Teams looking to add a dynamic playmaker in the middle rounds of the draft will look at Palmer, the converted running back. I fully expect Palmer to run very close to, or lower than 4.0 in Indy.
---
10. Jamie Collins- DE/OLB Southern Miss. Jamie Collins dropped off a lot of people's radars as Southern Miss didn't win a single game this past year, but it wasn't due to any fault of his. Collins still recorded 10 sacks and 20 TFL's, despite being Southern Miss' only big time player on defense. Collins has an outstanding blend of power and explosive athleticism, and should put that on display for scouts and GM's in Indianapolis.
---