Week Fourteen Prospect Matchup Preview
We break down the three biggest NFL Draft prospect matchups of the week, along with previewing the week's biggest games and which NFL prospects to keep an eye on. (Rankings according to NFL Draft Geek Power Rankings)
---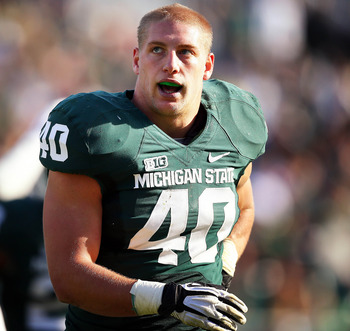 Prospect Matchups
Ohio State RB Carlos Hyde vs Michigan State ILB Max Bullough

With a National Championship on the line, this particular matchup will go a long way to deciding whether or not the Buckeyes will play for it all. Carlos Hyde is averaging over 160 yards per game in Big 10 play, but Michigan State is the No. 1 run defense in the nation giving up only 67 yards per game. Hyde is a beast of a running back whose size and power allow him to run through tackles as well as break away from the defense.
It will be up to the quarterback of the the Spartans defense Max Bullough to slow down Hyde. Bullough is highly regarded because of his sky-high instincts and football IQ. He always is around the football, and rarely ever makes mistakes. Ohio State is not going to be throwing the ball on Darqueze Dennard and company, so they cannot afford to have a sluggish ground game. I like Bullough and the Spartan D in this matchup.

---

Missouri DE Michael Sam/Kony Ealy and ILB Andrew Wilson
vs
Auburn Offense
As we saw last week with Alabama, it takes a team effort to slow down Auburn's rushing attack led by the dynamic Nick Marshall and Tre Mason.
Nick Marshall doesn't qualify as an NFL prospect, but he will test Michael Sam and Kony Ealy who certainly are on the NFL Draft radar. It's all about contain. Can Sam and Ealy maintain the edge and keep Marshall inside the pocket? If they fail to do so, Marshall will turn the corner and keep breaking off chunks of yardage.
If Sam and Ealy can set the edge, RB Tre Mason will be getting the ball up the middle where it will be up to middle linebacker Andrew Wilson to step up in his run fits and keep Mason from getting into the second level
---
---

Stanford Guards David Yankey/Kevin Danser vs Arizona State DT Will Sutton

This is a classic matchup of speed vs power. David Yankey and Kevin Danser are physical run blockers who want to knock you off the ball, while Will Sutton is an undersized quick-twitch athlete who wants to fly past you and get into the backfield.
In their meeting earlier this year the Stanford line dominated Arizona State and Sutton had no impact. So you know that the Pac 12 Defensive player of the year is looking to prove that game was a fluke. However, look for this meeting to be much the same, as Sutton just doesn't match up well against Stanford's power blocking scheme. Expect Yankey to hold him in check.
---
Games of the Week
Saturday 8:00 ET
#2 Ohio State Buckeyes vs #7 Michigan State Spartans
Not too often lately is the Big 10 Title Game considered to be the most intriguing conference title game, but with Ohio State on the verge of the National Title Game, it gets top billing. This is a classic strength on strength game where the Buckeye's high scoring offense (3rd in scoring) will face off against one of the best defenses (4th in scoring) in the nation. Ohio State has not played a defense anywhere near as good as Michigan State's all year, and I expect the Spartans to be fully ready to earn their first Rose Bowl since 1988.

Prediction: Ohio State 20 - Michigan State 23

Ohio State NFL Draft Prospects
Michigan State NFL Draft Prospects

LB Ryan Shazier (#38 Overall)
CB Bradley Roby (#46 Overall)
RB Carlos Hyde (#76 Overall)
WR Devin Smith (#15 WR)
OT Jack Mewhort (#15 OT)
Safety C.J Barnett (#15 Safety)
Safety Christian Bryant (#21 Safety)

CB Darqueze Dennard (#15 Overall)
ILB Max Bullough (#98 Overall)
OLB Denicos Allen (#11 OLB)
Safety Isaiah Lewis (#22 Safety)
Saturday 4:00 ET
#3 Auburn Tigers vs #5 Missouri Tigers
After a combined 2-14 in the SEC last year, you'd be lying if before the season started you predicted Missouri vs Auburn for the SEC Title. That or on drugs. Both teams bring efficient offenses though Auburn's is more ground based while Missouri likes to toss the ball around. Auburn has all the momentum coming off their big miracle wins, but Missouri has been steady all year long and might have the better defense. This game is a true toss up.

Prediction: Auburn 34 - Missouri 30

Auburn NFL Draft Prospects
Missouri NFL Draft Prospects

RB Tre Mason (#46 Overall)
DE/OLB Dee Ford (#54 Overall)
FB Jay Prosch (#3 FB)

DE/OLB Michael Sam (#26 Overall)
CB E.J Gaines (# 48 Overall)
DE Kony Ealy (#9 DE)
WR L'Damian Washington (#19 WR)
ILB Andrew Wilson (#9 ILB)
Saturday 7:45
#9 Stanford Cardinal vs #11 Arizona State Sun Devils
The popular pick has been for the Sun Devils to win the Pac 12 Title as Arizona State has been playing at a very high level and the game is in Tempe where they have been practically unbeatable. The problem is that these two teams have already played and Stanford dominated that game. It's just a bad matchup for ASU. Stanford is going to slow the game down and force you to play their style, and the Sun Devils just can't do that.

Prediction: Stanford 23 - Arizona State 20

Stanford Draft Prospects
Arizona State NFL Draft Prospects

OLB Trent Murphy (#28 Overall)
LB Shayne Skov (#64 Overall)
David Yankey (#72 Overall)
OT Cameron Fleming (#99 Overall)
Safety Ed Reynolds (#5 Safety)
DE Josh Mauro (#5 3-4 DE)
FB Ryan Hewitt (#4 FB)

DT Will Sutton (#53 Overall)
DE/OLB Carl Bradford (#73 Overall)
RB Marion Grice (#11 RB)
Saturday 12:00 ET
#14 Oklahoma Sooners vs #8 Oklahoma State Cowboys
Bedlam is here and for another year it will determine the Big 12 Conference Championship. A win by Oklahoma State and they will move on to represent the conference in the BCS Bowl. You'd think the game will be close because it's a rivalry game, but let's be honest; Oklahoma is a shell of themselves. Their offense is a mess and add that the Cowboys have been playing lights out on defense and that could spell disaster. Also the game's in Stillwater.

Prediction: Oklahoma 17 - Oklahoma State 38

Oklahoma NFL Draft Prospects
Oklahoma State NFL Draft Prospects

CB Aaron Colvin (#74 Overall)
RB Damien Williams (#8 RB)
WR Jalen Saunders (#29 WR)
Center Gabe Ikard (#7 Center)
LB Corey Nelson (#19 OLB)

CB Justin Gilbert (#24 Overall)
DT Calvin Barnett (#98 Overall)
WR Tracy Moore (#22 WR)
LB Caleb Lavey (#10 ILB)
RB Jeremy Smith (#28 RB)