Utah State CB Will Davis Interview
If you're not familiar with him yet, it's about time to do so! Utah State Cornerback Will Davis is one of the more underrated prospects thus far in the 2013 NFL Draft, but is certain to make a lot of noise in the next few months. Here Will talks about his most unusual path to D-1 stardom, his time at Utah State, and his NFL future.

---
Draft Geek:
First off, congrats on your guys' Bowl Win, 2nd in Utah State's history. What was the experience like, and how proud are you guys of what you've accomplished?
Will Davis: The experience of course was amazing. The state of mind was a lot different then last year though, in the sense we knew we couldn't lose it the second time around, in the same bowl game, in the same stadium. When it comes to how proud we were, its almost unexplainable to do what we did this year, from winning 11 games, winning a bowl game, becoming ranked in the BCS polls, and to just do a
lot of things that has NEVER been done at Utah State University, it feels simply amazing.
---
Draft Geek: What are your thoughts on Coach Anderson? How did you feel about the way he left?
Will Davis: I love Coach A. I support that man in every aspect of life. Every person has their goals in life that they want to accomplish, and I know the decisions he made to leave for Wisconsin were so that he can accomplish the goals he has for himself. He always taught us that "players win games", and that's something I have been reminding the younger guys, because I know it's a rough change for them as well as the community.
---
Draft Geek: Is it true you didn't start playing competitive football until your senior year in high school? Why such the late start?
Will Davis: Yeah it's true that I didn't start playing football till my senior year in high school. Honestly, that was due to my high competitiveness, and lack of confidence. My older brother Shon Davis was really good at football in high school, and he was only a year older then me. I never wanted to be viewed or seen behind his shadows, so I decided not to play. But once he graduated I didn't have to worry about that anymore, so I decided to finally play the sport. As well as being a senior, you just wanted to do everything, which for me was being a three sport athlete, as well as the ASB president.
---
---
Draft Geek: Tell us a little bit about your path from High School, to JUCO, to Utah State. Would you rather have been a highly touted prospect at a big school?
Will Davis: My journey to Utah State was definitely rough, and a path less traveled. After my senior year, and my only year of football I received a Division 2 scholarship to Western Washington University to play football. I "Redshirted" that first year, and after that football season the program was dropped from the school due to budget cuts. So I was now lost. My 2nd year in college I sat at Western Washington and was just a student, helping on the track team to keep me occupied. But after that year, I couldn't do it anymore and found a home at De Anza College in Cupertino, California. I knew my time was limited because of eligibility, so I got there and told my coach I wanted to play one year and get a Division 1 scholarship. And that was exactly what I did, Utah State University saw something in me, as well as some other WAC teams, but I went with Utah State. And from there the rest was history.
---
Draft Geek: You were under the radar coming out of high school, and playing at Utah State, a lot of people still don't know you. Do you enjoy flying under the radar? Do you feel it gives you any sort of advantage?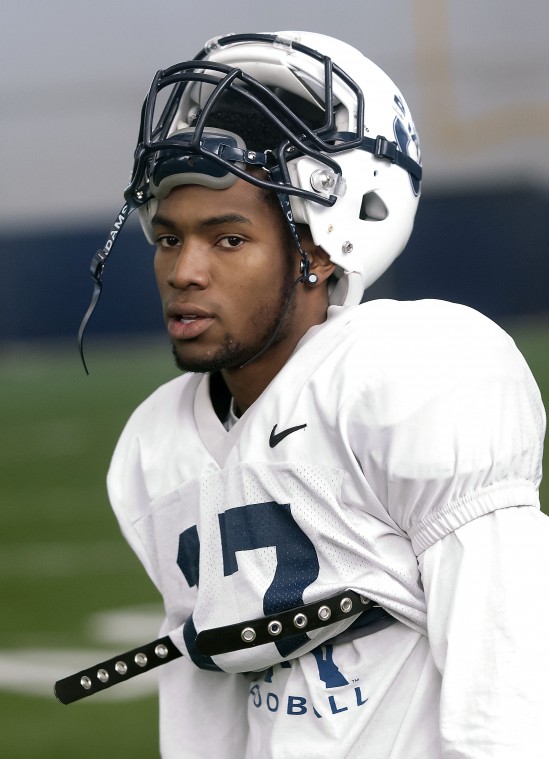 Will Davis: I enjoy flying under the radar, but as far as advantage I guess you could say it does, because people wouldn't expect a lot out of me. But I like expectations ,I would rather people expect me to have exceptional games. Towards the end of the year that is exactly what I got, a lot of my fans on twitter (@WillieD_effect) began to expect me to get an interception game after game.
---
Draft Geek:You were recently invited to the Senior Bowl? How excited are you about that? And what in particular are you looking to prove?
Will Davis: I'm extremely excited about the Senior Bowl, not knowing too much about it, besides from what I heard last year with Bobby Wagner going through, I knew it was a huge honor and didn't want to think lightly of it. At the Senior Bowl I just plan to do what I've been doing at Utah State, except with better competition around me.
---
Draft Geek:What goals have you set out to achieve in the NFL?
Will Davis: Goals for the NFL, would be longevity, and be a multiple pro bowl selection. But the main thing is last long in the NFL, have an amazing career, and one day be talked about as a hall of famer.
---
Draft Geek: What do you feel is your biggest strength, and also, what do you feel you need to work on the most?
Will Davis: I feel my biggest strength is my reaction skills and ability to adapt. I think I've adapted well at each level of football, which has helped me perform well in the minimal amount of time I was able to spend at each school. My reactions I feel is a strength, I break fast and react fast, which has helped me to make plays on the ball this year. Also to go with that would be my ball skills, I feel I play the ball great in the air which has helped me to make play after play after play each game.
My weakness I'd say is my physicality. I feel like I need to be more physical when I'm out there, as well as football IQ .I feel I need to learn the game a little bit more, but that's just because of the small amount of football I've been able to play in my life.
---
Draft Geek: How close are you with Bobby Wagner and Robert Turbin? What has it been like to see them both be so successful so quickly, especially Bobby?
Will Davis: I text Bobby all the time, I love the man. He's helped me a lot with understanding the pressure and the path when transitioning from a college athlete to a profession. As far as Turbin, he was actually my big brother at Utah State University, and was very inspiring there, he's a very focused man. Bobby is my dude though, I've learned a lot from him, and will continue to learn from him as I get closer to the NFL.
---
Draft Geek: How good is Chuckie Keeton going to be?
Will Davis: Chuckie Keeton is going to be amazing! Kid loves the pressure, and performs well under it. He's a student of the game, and has a lot of experience as a young player. By his senior year, I expect him to still be leading this team and carrying the team to the best team they can be that year. I personally expect him to be in the NFL in a couple years.
---
Draft Geek: O.K final one. Utah State, Logan Utah, not exactly a whole lot going on there. How do you guys spend your spare time over there???
Will Davis: Haha yeah, there's definitely not too much going on in Logan, Utah. Personally though, this has helped me out a lot. To in a sense tame me, and help me focus on school and my game. But yeah every now and then you gotta go out, so it's big on who you surround yourself with. My roommates and I did everything together and that's what made it fun. And if we really wanted to go out, Salt Lake City wasn't too far away.
---
Thanks so much for your time Will, we really appreciate it! Best wishes on all your pre-draft stuff, and in the 2013 draft itself, we're rooting for you!
Follow Will on Twitter here @WillieD_effect